CUSTOMIZED BOAT TRIPS
Feel free on the Aegean Sea
SOPHID Private Cruises
You might wonder what a luxury yacht, inflatable and traditional Greek fishing caique share in common. Clearly, it is the unspoken bond of sea lovers who know the power of the Aegean Sea to unleash the spirit of freedom on its enchanting waters.
You will discover all the sensations of these mystical waters on our private cruises along the Karpathian coastline dotted with small coves accessible only by boat.
You can expect the exhilarating feeling of the fresh Aegean breeze, salty air, the cool waters of some of the most beautiful beaches in Greece, ideal for swimming and snorkeling, –and some awesome surprises. The open view from sea to spectacular shoreline, is dazzling, a vision you could only dream of sitting on the beach. The joy of playful dolphins escorting your boat.
A rare glimpse of the Mediterranean monk seal (monachus monachus), a protected species.
Hidden secrets unfold all along the way, like Saria, a uniquely beautiful islet on the northern side of the island, which open new horizons to explore the spectacular Nature of Karpathos.
Sophid Private Cruises offer our guests the unique opportunity to follow the sun on the Aegean Sea.
Join us for a customized boat trip for an authentic Aegean lifestyle experience.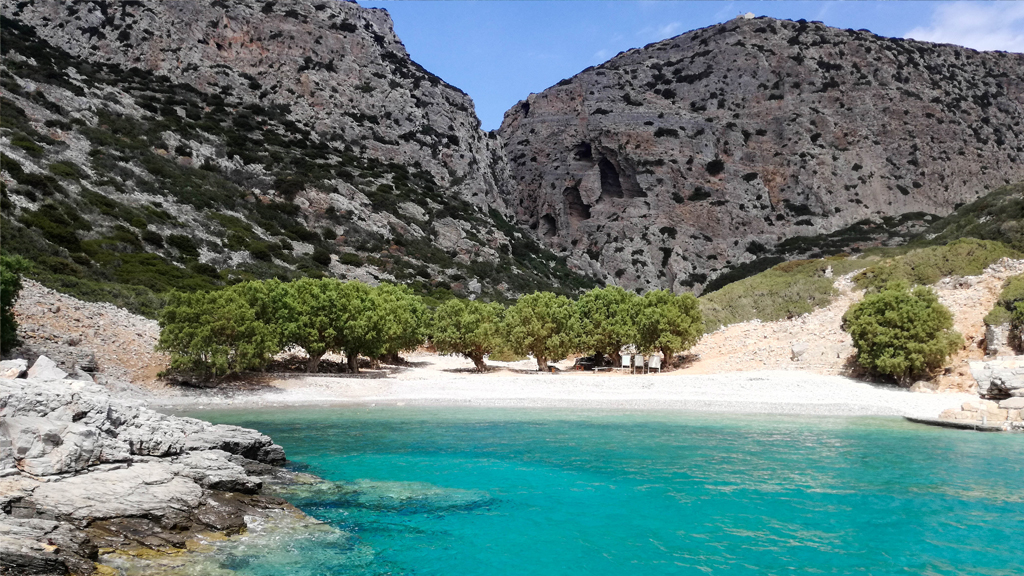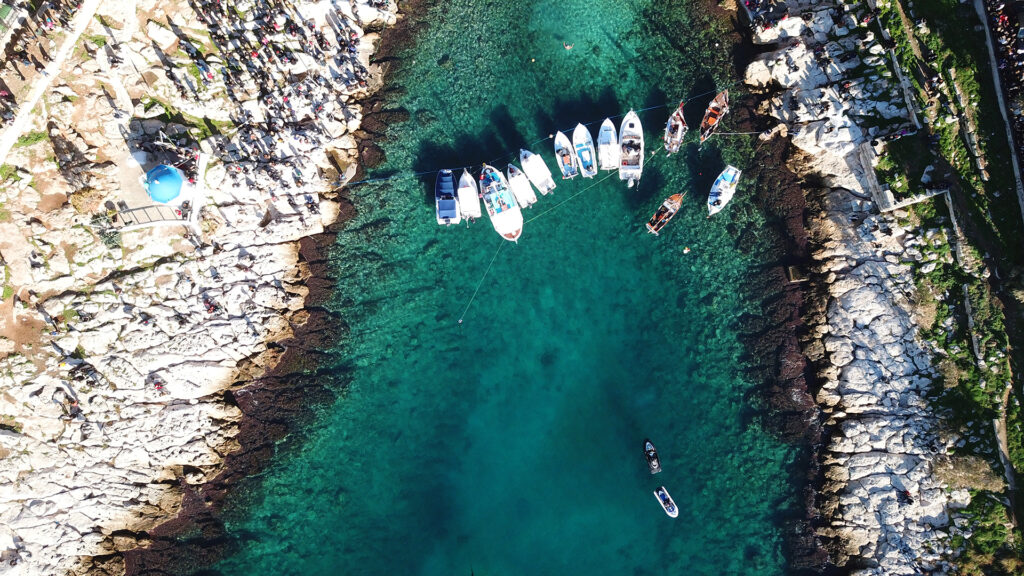 MAKING PEOPLE HAPPY THROUGH THE SEA
NORTHERN COAST
Vroukounda-Tristomo-Saria Island
History Meets Nature
The Northern Coast of Karpathos is a world of natural wonders with ancient roots.
The Vroukounda peninsula welcomes you to discover its secrets and the awesome sensations of pure Nature.

First stop, Vroukounda
Visit the ancient cemetery and cave church of Agios Ioannis.
Vrykous was one of the four ancient cities of the island. The ruins of its necropolisstill exist as well as inscriptions describing ancient life.
Chapel of Agios Ioannis (St John the Baptist), built into a cave above the sea at ancient Vrykous, is the site of an impressive traditional religious festival the 29th of August.

Next stop, Tristomo
A tiny natural port, Tristomo is the most remote northern village. Time stands still in the abandoned village where the remains of traditional houses and a vaulted Byzantine church reflect the past.

Last stop, Saria Island
Saria is an islet just 100 m across a narrow strait from Vroukounda. It is thought that the two islands were joined in antiquity but separated by a strong earthquake. Today, it is uninhabited but worth the visit to marvel at its high cliffs, ancient ruins, abandoned pirates' houses and white sandy beaches with the clearest waters for amazing swimming and snorkeling. Lunch on Palatia Beach.

Full day 09.00 -18.00
max. 6 persons
For 2 persons/ 320,00€ per person
For 3 persons/ 300,00€ per person
For 4 to 6 persons/ 250,00€ per person
NEARBY ISLANDS
Armathia-Kassos
Island-Hopping in the Karpathian Sea

Armathia and Kasos are charming small islands located in the Karpathian Sea a short distance from Karpathos. Your cruise boat stops at each of these islands offering the opportunity to experience authentic local culture and the hospitality of traditional islands off the tourist radar.

First stop, Armathia
Fantastic swimming at idyllic beaches

Today Armathia is uninhabited but at one time the island was a hub of gypsum mining and family life.
Marmara, described as one of the most spectacular beaches in the Mediterranean, offers fantastic swimming.  Although abandoned, one of the island's traditions still holds true — and celebrated by the locals of neighboring Kasos– who cross the water every year to attend a religious festival.

Next stop, Kasos
Lunch in a traditional taverna, swimming & sightseeing

A beautiful island known for its authenticity, Kasos is the     southernmost island in the Aegean Sea located between Karpathos and Crete.  Kasos offers a unique taste of a small Dodecanese island with its picturesque port, relaxed lifestyle, great beaches and delicious cuisine, including local cheese which is still produced in a traditional way.

Full day 09.00 -17.00
max. 6 persons
For 2 persons/ 250,00€ per person
For 3 persons/ 220,00€ per person
For 4 to 6 persons/ 200,00€ per person
EAST COAST BEACHES
Apella & Beaches Only Accessible by Boat
Your beach, your boat, your best sun-filled day

The eastern coastline of Karpathos is known for its fantastic beaches — with a choice of long, sandy beaches, pebbled coves, small inlets against a mesmerizing backdrop of towering cliffs.  However, all along the shore, the clearest waters welcome exceptional swimming and snorkeling. Aboard Sophid's private cruise boat, you have the possibility to reach every beach — including hidden shores only accessible by boat to enjoy the feeling of your own private beach.

Apella
Swim in the waters of a world-famous beach

Apella is one of the most beautiful beaches on Karpathos and is continuously listed among the ten best beaches in Greece.
It is an organized beach attracting beachgoers but from your private cruise boat, life at the crowded beach is 'miles away.' Dive into fantastic waters and swim from your boat relaxing in the sun on the deck.

Ai-Giannis, Kato Lakos, Makri Gialos
Enjoy the feeling of your own private beach

The thrill of enjoying the beauty of a beach with a small group of friends makes your holiday on Karpathos even more sensational.  You will stop at these stunning beaches, — only accessible by boat — each unique, to relax, explore caves, snorkel and swim.

Lunch at Agios Nikolaos in a fish tavern.

Full day 09.00 -17.00
max. 6 persons
For 2 persons/ 240,00€ per person
For 3 persons/ 200,00€ per person
For 4 to 6 persons/ 180,00€ per person
MEDITERRANEAN DINNER ON OUR PRIVATE CRUISER
Sensations of Mediterranean cuisine & sunset over the sea

Enjoy the ultimate in Greek island living in a private dinner aboard our comfortable cruiser. The spectacular sunset welcomes a starlit night on the water for special moments. An elegant table of specialties catered to your taste by our award-winning chef promises a dining experience that lingers long into the moonlight.

Half day 18.00 -22.00 (depends on the season)
Min. 2 persons-max. 4 persons | Price per person 150€
CHART YOUR OWN COURSE, CHARTER OUR LUXURY CRUISER
Explore more of the Dodecanese Islands

The Dodecanese Islands highlighted by Rhodes, Kos and Patmos have played an important role in Greek history since antiquity, with the Colossus of Rhodes distinguished as one of the Seven Wonders of the Ancient World. Hippocrates, Father of Modern Medicine was born on Kos and John the Apostle is associated with Patmos. Today, the group consists of 12 larger and 150 smaller islands, each uniquely charming.

By chartering our new luxury cruiser, available by the day, you can visit many of these beautiful Aegean islands including Tilos, Nysiros, Chalki and Kastellorizo at your leisure
Price per day 1200€ (fuel is not included)
MEET OUR CAPTAIN

Dinos Protopappas is a native of Karpathos who has navigated every corner of the island and is well-known throughout the Dodecanese.
His experience includes 14 years as Captain and Director of the Marine Preserve/Karpathos-Saria. His knowledge of the region's protected species including rare birds and marine life adds to the nature lover's experience. Especially trained in diving and first aid our Captain ensures a pleasant cruise in safe hands.

SOPHID CABIN CRUISER
All-around comfort

SOPHID'S new AXOPAR 28 cabin cruiser is the perfect way to spend an idyllic day on the sea. Spacious, bright and comfortable, the boat seats six (sleeps 2 in a cabin double bed and 2 in a convertible double sofa bed) and is fully enclosed.
Wide sliding doors and a sliding canvas roof open to create an airy atmosphere with a cool sea breeze under the warmth of the sun. There is plenty of room to socialize on the foredeck relax on a sunbed and enjoy every convenience on board, including a freshwater shower.
*Depending on weather conditions