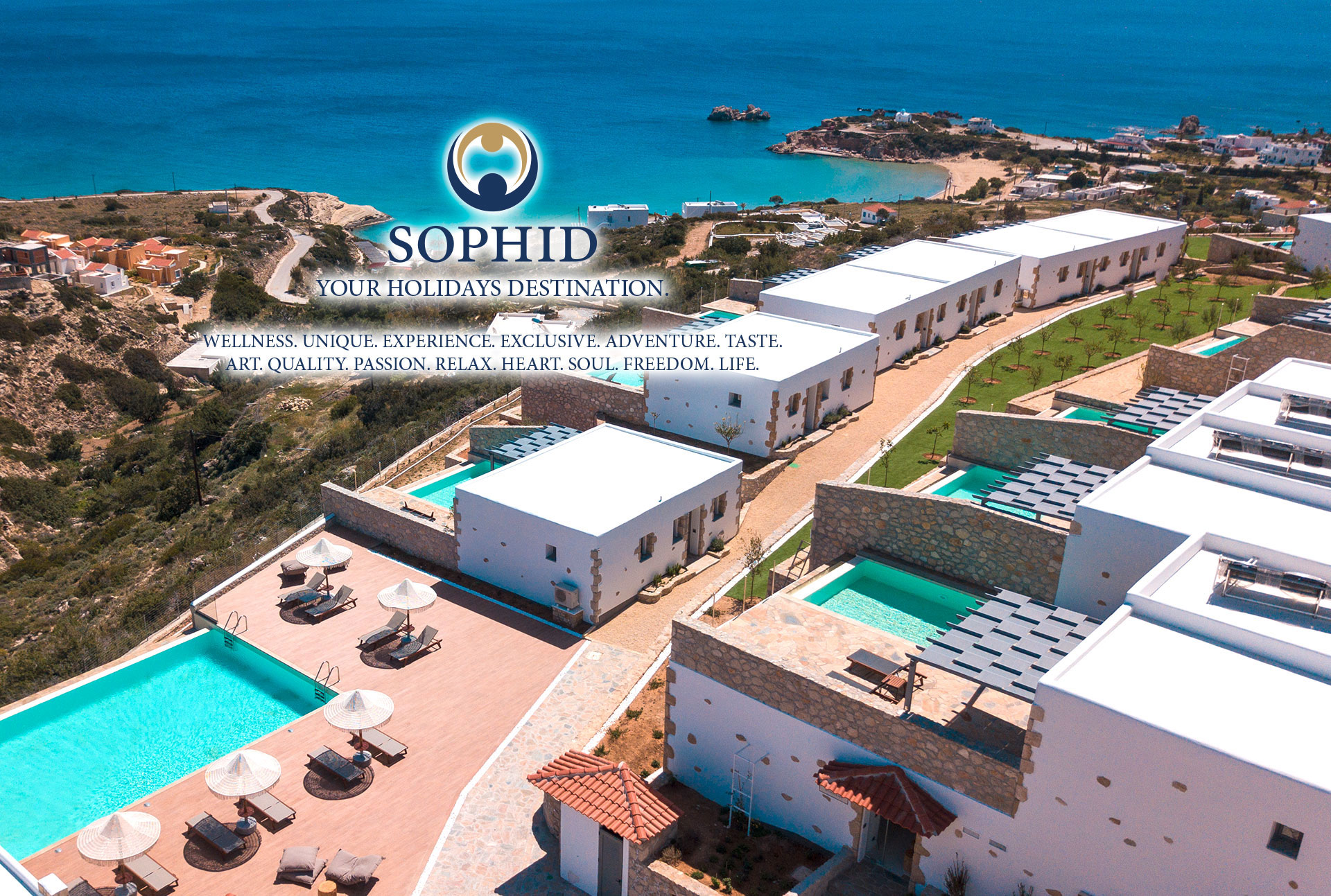 SOPHID is the new name for authentically stylish alternatives in country living on Karpathos. SOPHID WELLNESS SUITES, SOPHID INSIDER EXCURSIONS , SOPHID BOUTIQUE and SOPHID ART are created to share the traditional outdoor lifestyle, pure beauty, spirituality, and ancient memories of this unspoiled Greek island with nature lovers.
Our novel holiday destinations reflect an enduring passion for the sensational nature and traditional culture of Karpathos; an island we call home.
The SOPHID hotel Experience embraces the happiness of our guests to explore the other side of Karpathos, off the beaten path, for classic moments on this island 'world of many worlds.'
Two decades ago, on a bright summer's day, an international traveler, speaking Italian, English and French, stepped on shore in search of 'two weeks of absolute relaxation and a return to the origins and traditions of the past.'
However, what he found was far from what he had imagined; no paved roads, no street signs.
He decided to stay, 'just one day.'
Following a mysterious instinct, his sense of adventure drove him to explore the island from coast to coast. According to island legend, the first inhabitants of Karpathos kidnapped the gods of Mount Olympus bringing them to live on the island; Kali Limni is the highest peak in the Dodecanese.
The dramatic beauty of the island unfolded slowly before his eyes.
The changing shades of the sea transforming from crystal waters, to sky blue and emerald green. The colorful houses of Pigadia, the main town. The small church at Panagia, with the red roof. Spoa, a sleepy town on the north coast known for its stones. The beaches leading to Olympus, with a shoreline of black, volcano sand, mirrored in a dark sea.
Breathtaking Olympus, situated between two small hills and surrounded by windmills; where the heart of centuries-old traditions beats today and flows to the peripheral villages. The contrast of the West, with its forests, pine woods and high mountains.
The island's Nature had cast its spell. The next day, he bought the land to build the SOPHID dream. Countryside settings, an atmosphere enhanced by the contemporary pleasures for well being and exploration.
Special places which bring the eternal beauty of Karpathos in touch with today' traveler.